Author's note: Forgive me for going off topic in this post. I know I usually talk about pop culture and films, but I hope you'll indulge me just this once.
---
I didn't really think much about terrorism until the 2005 Tube bombings.
Sure, there had been other attacks. But I was either too young or said attacks would happen in countries far, far away.
But what I remember most on that day in July 2005, wasn't the fear, or the hate, or the unknown. What I remember most was the calm.
As I was only 17 at the time, I found it hard to understand. But the adults reassured me. They told me the stories of all the terrorist attacks they had lived through and survived for the past few decades.
And once again another attack has taken place, this time not too far from where I worked.
It's a strange experience residing in London because, for nearly 60 years, we've never truly stopped living under the threat of terrorism.
I refer, of course, to the Irish Republican Army and their campaign for a renewed Ireland in what is often referred to as The Troubles.
It's been a part of our lives (at least until the Good Friday Agreement). Maybe not to the same extent as those innocents in the Middle-east, but a part nonetheless.
But throughout the decades of violence, we've still stuck together to try and treat the innocents with dignity. We never tried to ban Irish people from the UK, never tried to put them on a register; and hopefully we'll never do the same to those who believe in Islam.
Today, from what I witnessed, that stability remains. We remained calm. Even though the attack was just down the road, the shops stayed open, the tube still ran and our show still went on.
It could have been worse. I know it could have. From the policemen and women who put their lives in harm's way, to the NHS workers from the local hospital that ran to help; they all played a part in helping to avoid an even bigger tragedy. And I will be forever grateful it wasn't.
I don't know if this article feels rambling or even coherent, but before I go there is one photo I would like to share with you today.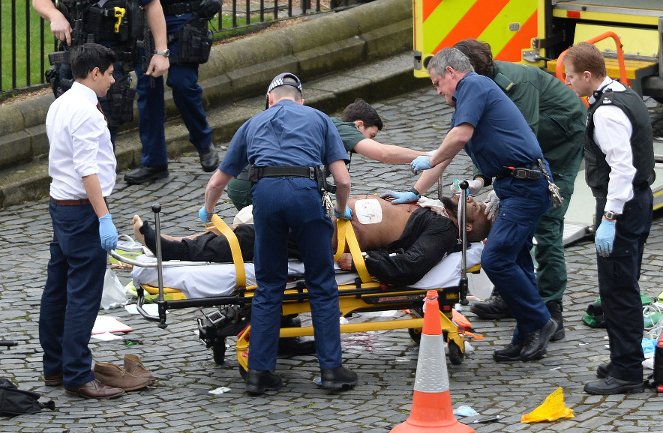 I honestly don't know who took this, but it was on The Mirror's twitter account. This is a photo of the terrorist, whose identity at the moment is unknown.
In the days to come I am sure there will be many stories about ideology, politics and terrorism. But when I see this photo, I first see the image of 2-4 people trying to save a man's life.
Even after shooting him, even after what he did, the desire to help, to do what is right, is paramount. Whether or not you think he deserves it… Well, I'm sure we can argue about that till Kingdom Come.
But in this Topsy-Turvy world that we call 2017, that photo gives me a little hope.
Photo Credits: Google Maps, Belfast Telegraph, Mirror,